Single row machines
The onion harvest 1 row allows an average speed about 3 kph, which is variable according to harvest quality : density, presence of bindweeds, oblique and crossed onions, etc. In extreme cases it is necessary to reduce to 1.5 kph. In best cases, it is possible to go beyond 5 kph. It is relatively frequent to exceed 1.5 ha / day.
With the single row, the space between rows is less important than with one 2 or 4 rows. We recommend 80cm between rows in order to reduce possible damages on the nearby row. For 4 rows an 80 cm space is compulsory. For 2 rows customers harvested with 75 cm space but had to modify their sower the next year.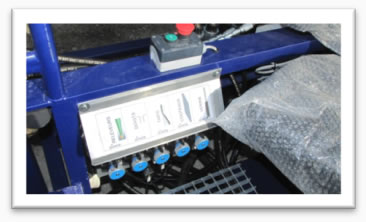 A control station (driving position) situated on the harvest machine allows the operator to adjust the machine (engine speed) and to sort out manually the harvest before going raised up towards the trailer.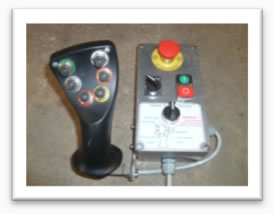 The driver has a control panel which allows him to position and set up the machine.
Hydraulics : If the tractor has a flow of 40 liters per minute for the harvest, it is possible to link it directly. If not it will be necessary to add the hydraulic option on the tractor power take-off (PTO).

You can find attached a brochure with various working positions and explanations regarding in the possible machine regulations It is important to notice that, in initially, both knives allows to cut a long stalk (umbels are supported by strips fingers), and secondly, the small knife cuts the short stalks. This provides a huge benefice : to reduce the volume in dryers (see file « reglage4 »).